Sunrooms
Sunrooms offer versatile, beautiful spaces where families can come together to combine the comfort of the indoors with the environmental appeal of the outdoors. Professionally built sunrooms are easy to maintain and clean, giving the homeowner the fresh air benefits without the leaves, dirt, and bugs getting inside.
Sunrooms are a great way to increase the living space within your home, and as mentioned, bring some of nature's outdoors inside. Sunrooms have walls completely made of glass or very large windows, so your home will receive an abundance of natural light. Perfect for relaxing in the warmth of the sun's rays. Perfect for those clear nights spent counting the stars. A custom sunroom provided by American Deck and Sunroom can be an excellent addition to your home.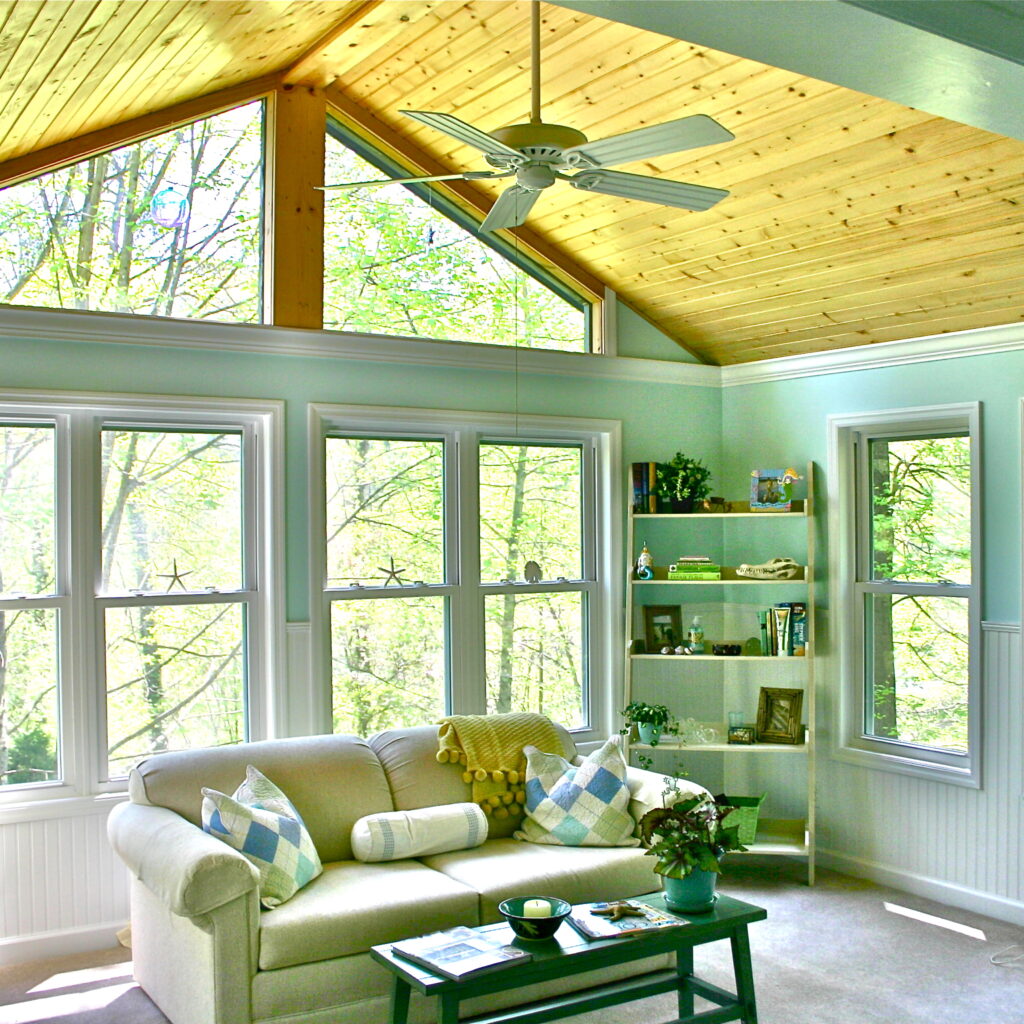 Pros:
Perfect for brutal winters/extreme summer – Considering sunrooms are completely enclosed, you are able to control the temperature making them excellent for the brutal cold during the winter or the extreme heat of the summer.
Being able to heat or cool your custom sunroom allows you to be at a comfortable temperature for year-round use.
Versatility – Sunrooms provide spaces that are highly versatile. As a result, you have the option to turn your custom sunroom into a family room, play room, guest room, gym, or place where you go to isolate yourself and enjoy nature.
Transparency without bugs, dust, or pollen – Your custom sunroom is completely enclosed, so you do not have to worry about any pesky bugs sneaking through. Also, you are exposed to the tranquility exuded from outdoors.
Cons:
More expensive – While custom sunrooms are well worth the cost, they do tend to be a bit more expensive than screened rooms because there is usually more construction involved in the process. They will, however, last a very long time… and the enjoyment that comes along with a sunroom is typically worth the cost.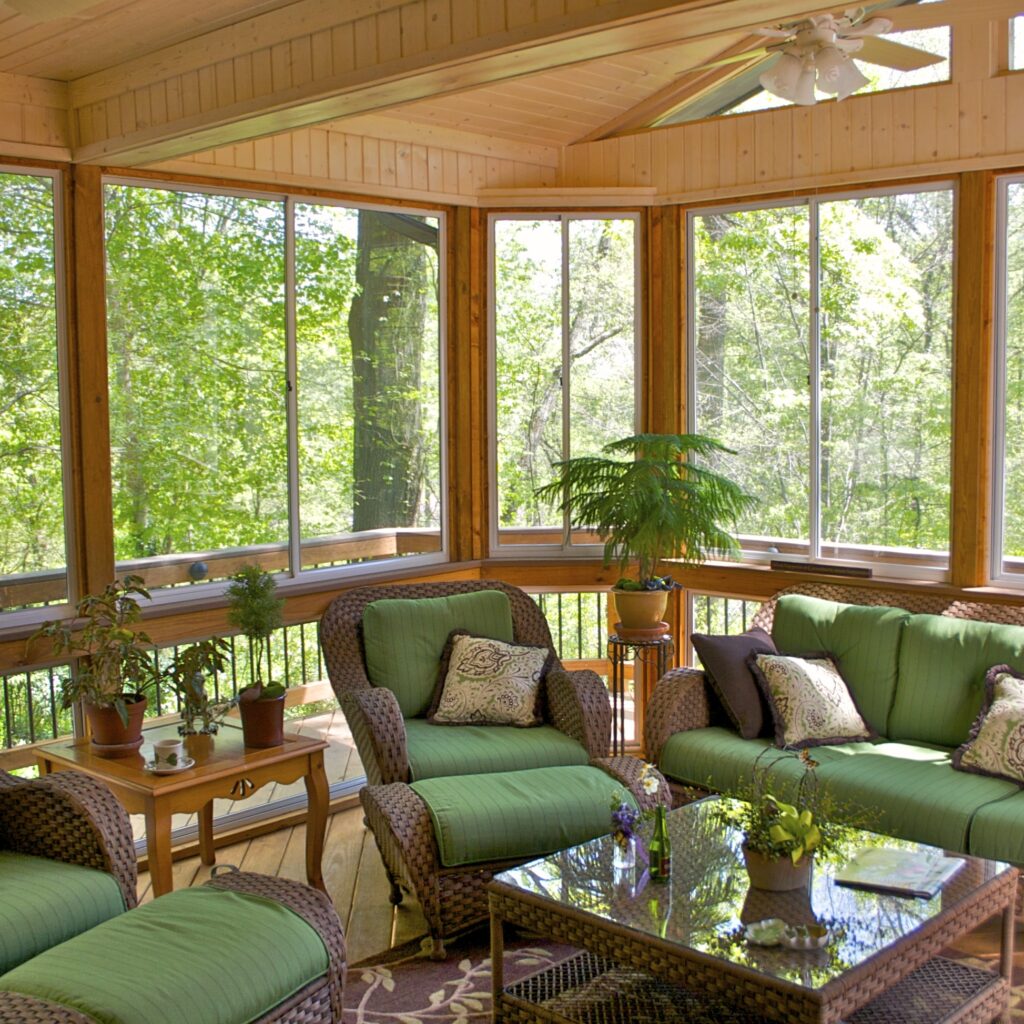 The American Deck & Sunroom Commitment
Our commitment is to your complete satisfaction with your new custom sunroom, and with any other addition that we design and construct for you. American Deck & Sunroom crews are professional, tidy, and dedicated. We treat each job as though our reputation hangs in the balance; because it does. Our crews are neat, clean and professional at all times. Once a project begins, they are dedicated to only that project until its completion.
There's one thing that you can depend on: your custom sunroom is built to last. That means we use only the finest materials, the best methods, and the best designs conceived by a designer that understands your home and your needs. We take your dreams into account, and turn them into reality. From our free estimates, guaranteed price quotes, and dedicated work crews, we treat each job as though our reputation hangs in the balance; because it does.
One facet of our service that many of our clients say is exceptional is the professional eye we bring to every project. When the plan is sound, the many different trades involved in your project will be able to execute it perfectly, without delays or the need to double-back to solve problems. From the excavation and placement of concrete, through finish carpentry, and ending with flooring and paint, you will experience efficient, master builders at work.
Additional Sunroom Info
Some quick facts about sunrooms:
• We can utilize an existing concrete patio or introduce a new one.
• A sunroom can be part of a deck, either existing decking or as part of a custom design we create for you.
• Many customers also request our landscape layout expertise as part of their sunroom design project.
• Solar screens are an innovation that will keep your addition comfortable in both sunlight and hot weather.
• There are retractable, built-in screens that roll up and down like a window shade.
• Windows and skylights can open to allow the breeze in.
• Sunrooms allow for indoor gardens that thrive even in snowy seasons.
• Utilizing the warmth and natural light from the sun means less money on electric bills.
• Sunrooms are an inexpensive way to add value to your home.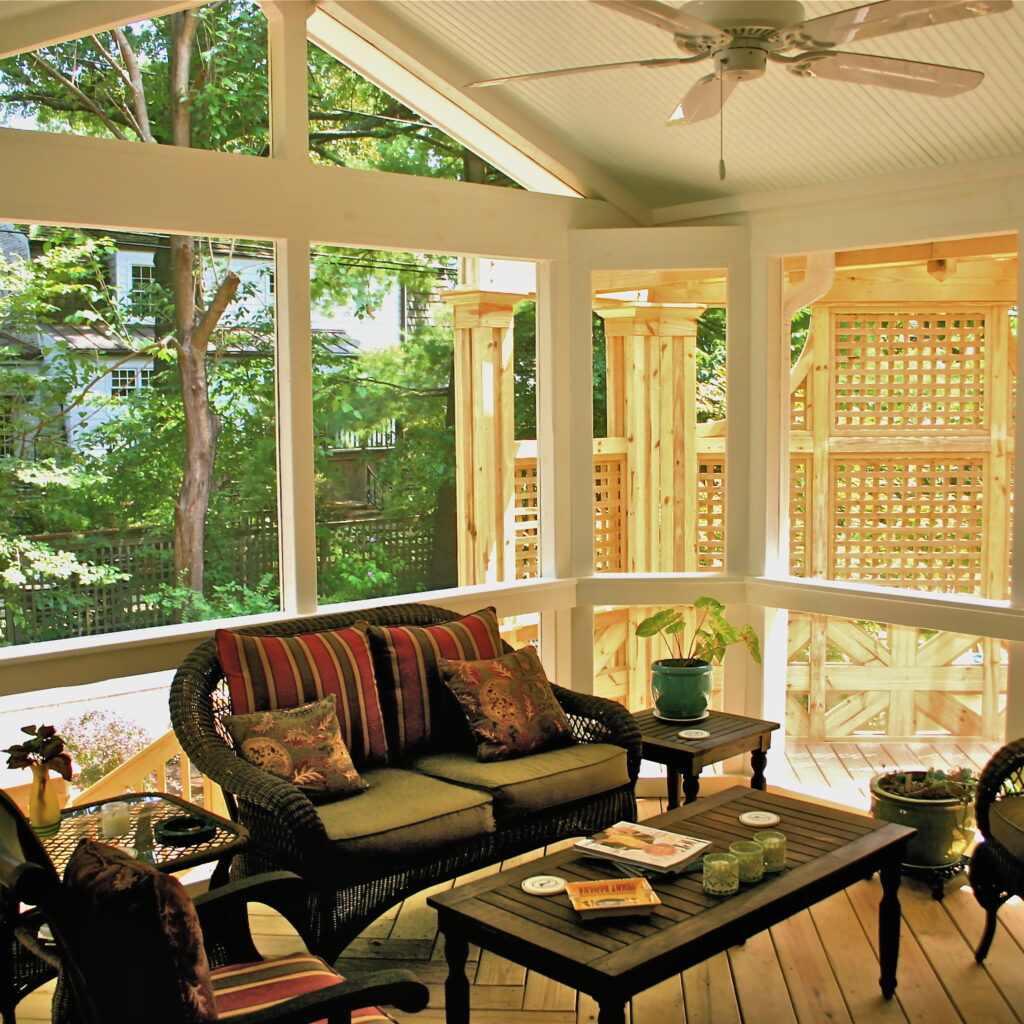 Keep in Mind
No matter your architectural needs, American Deck & Sunroom can provide you with a custom design that will increase the worth of your home, will blend seamlessly with your existing architecture, and will last a lifetime.
Some people begin with screens and later ask us to convert the space to a sunroom. This is another situation in which our crafting emphasis benefits you. Our designs are pre-designed to be retro-fit with glass window systems that can turn the space into a three- or- four-season room. If you change your mind, the room never looks as if something is missing.
When you choose American Deck & Sunroom to create a custom project, you are choosing an experienced contractor for your outdoor living project. The hallmarks of our service include guaranteed cost quotes, first rate building materials, and a rarity among construction projects: the crew that begins erecting one of our projects stays with it to the end. This is a measure of quality control that is a determining factor in our delivery of superior workmanship.