Looking for A Screened Room?
A screened room is perfect for providing that great feeling of being outdoors. A screened room will also keep those pesky bugs away, but unlike sunrooms, a screened room will still allow those calm winds to penetrate and contribute to the outdoor comfort. These additions are essentially outdoor rooms. The walls or windows are screens, not glass, which allows you to feel like you're outdoors without some of the drawbacks (bugs, dirt, and the beat of sunshine). A custom screened room provided by American Deck and Sunroom may be the missing piece to your beautiful home.
Considering a screened room for your property? Keep these points in mind!
When it comes to furniture, think weather-resistant. If you can find them in the same theme or style as your interior furniture, even better! This helps to create a more seamless flow throughout the interior and exterior spaces. Your screened rooms should be an extension of your home, not a second thought.

Offer multiple seating areas, whether it be for dining, chatting, playing games, relaxing, or mingling.

Consider adding a fan to your outdoor area. A soft breeze moving throughout the screened room during the summer will help keep guests cool.

Brighten it up! With the summer breezes blowing through your screened rooms, your guests will be sticking around a little longer than usual… don't leave them in the dark! Keep your exterior space as well-lit as your interior space.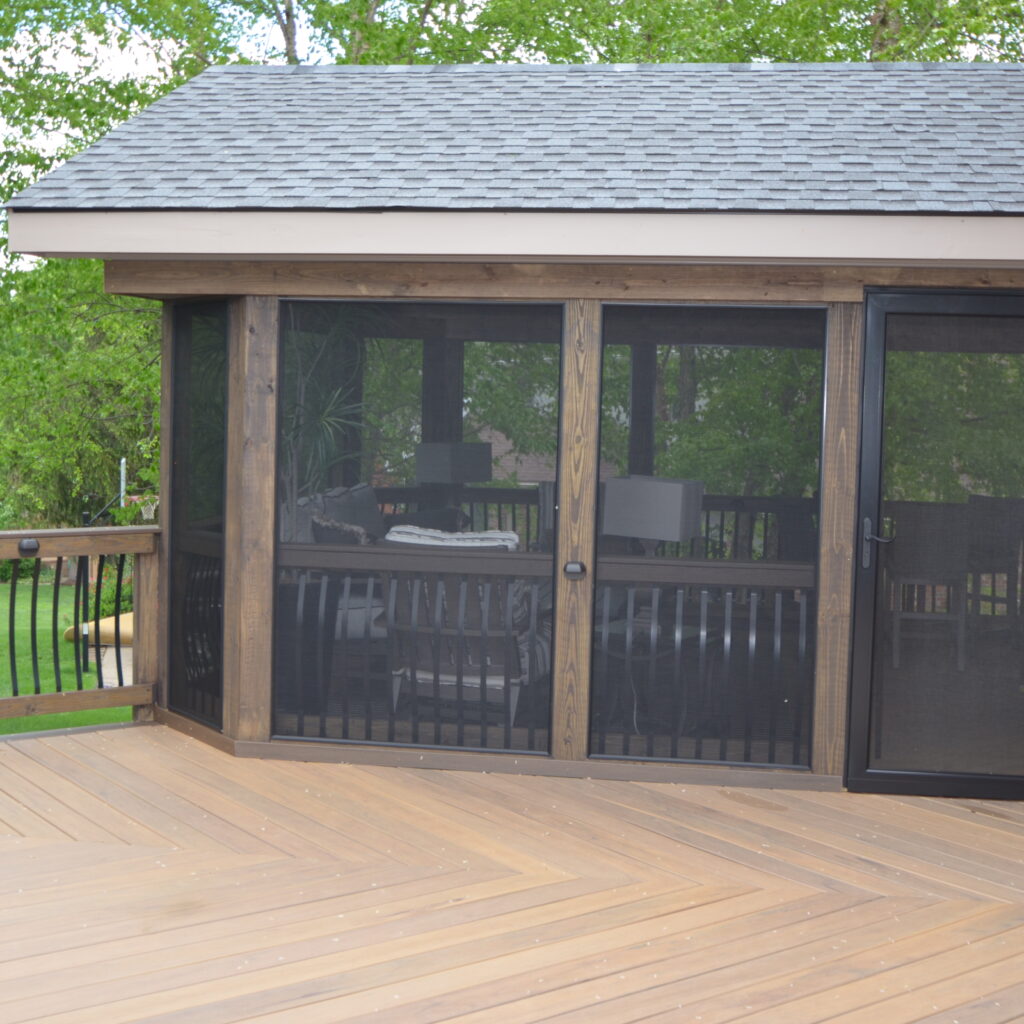 Screened Rooms – What they do
Custom screened rooms keep those nagging bugs away, while still allowing in that cool, relaxing breeze. Screened rooms add value to any home. And they add so much more:
Surprising wind-driven rain protection.

Shade and a respite from summer heat.

Protection for curious kids and pets.

Bees, beetles, and biting insects are shut out.

No squirrels and raccoons allowed!
Modern screens actually function as shades. They block and bounce back the radiant heat of the sun while allowing the cooling breeze to pass through. As you know, in the shade even a warm breeze is cooling. In the sun it adds to your misery. With professionally constructed outdoor screening, you get shade in summer, and if you choose an open/close system, you can let warming sun shine in on cooler days.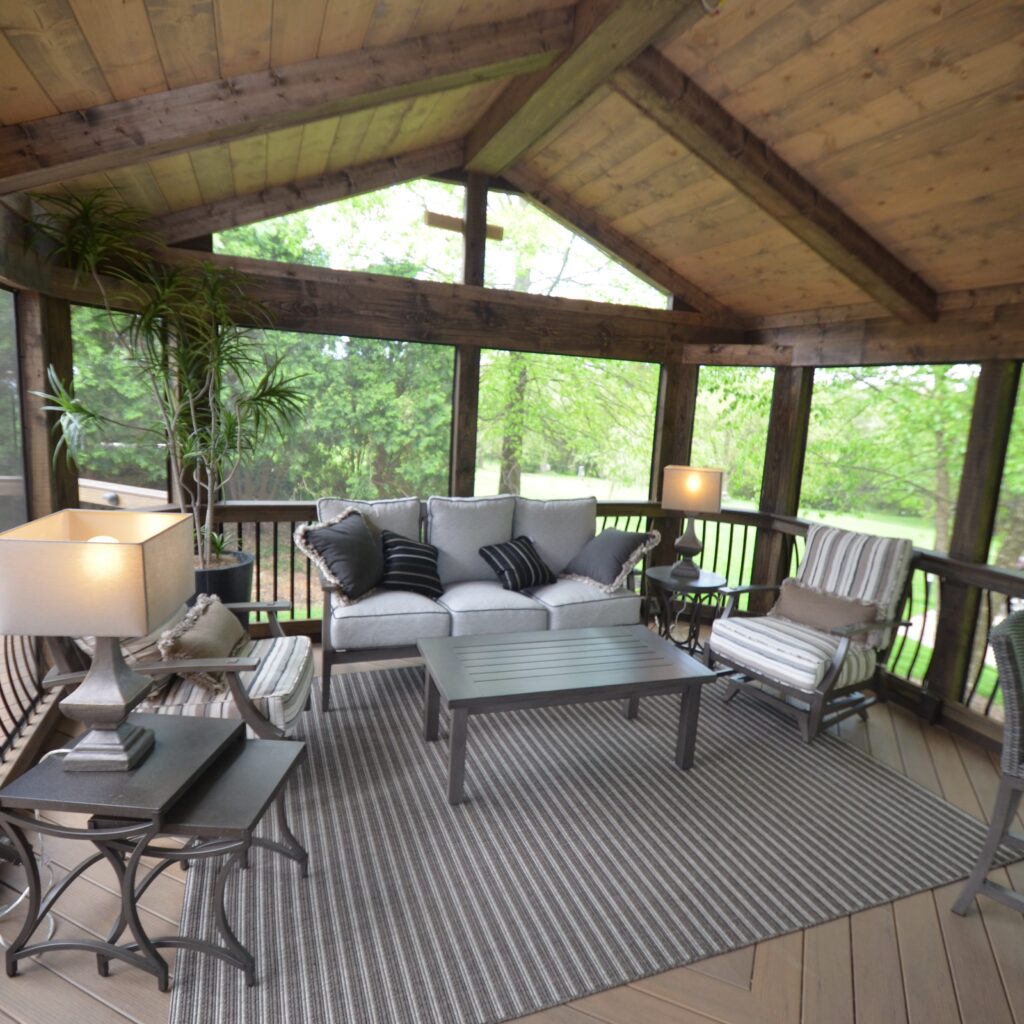 Adding on to Screened Rooms…
Love the breeze but hate the bugs? It's time for you to look into a screened room! A screened room will allow you to sit outside and enjoy the outdoors without the inconvenience of insects like bees and mosquitos getting on your nerves. Some people begin with screens and later ask us to convert the space to a sunroom. This is another situation in which our crafting emphasis benefits you. Our designs are pre-designed to be retro-fit with glass window systems that can turn the space into a three- or- four-season room. If you change your mind, the room never looks as if something is missing. Need help adding ideas to your screened rooms? Try some of these ideas!
Hammock

Outdoor fireplace

Hanging bed

Porch swing

Dining area
Protected from the elements by a sturdy roof, screened porches allow both light and breezes to filter through their insect-proof barrier. A screened porch is great for seasonal dining and entertaining, or simply quietly relaxing and enjoying the view.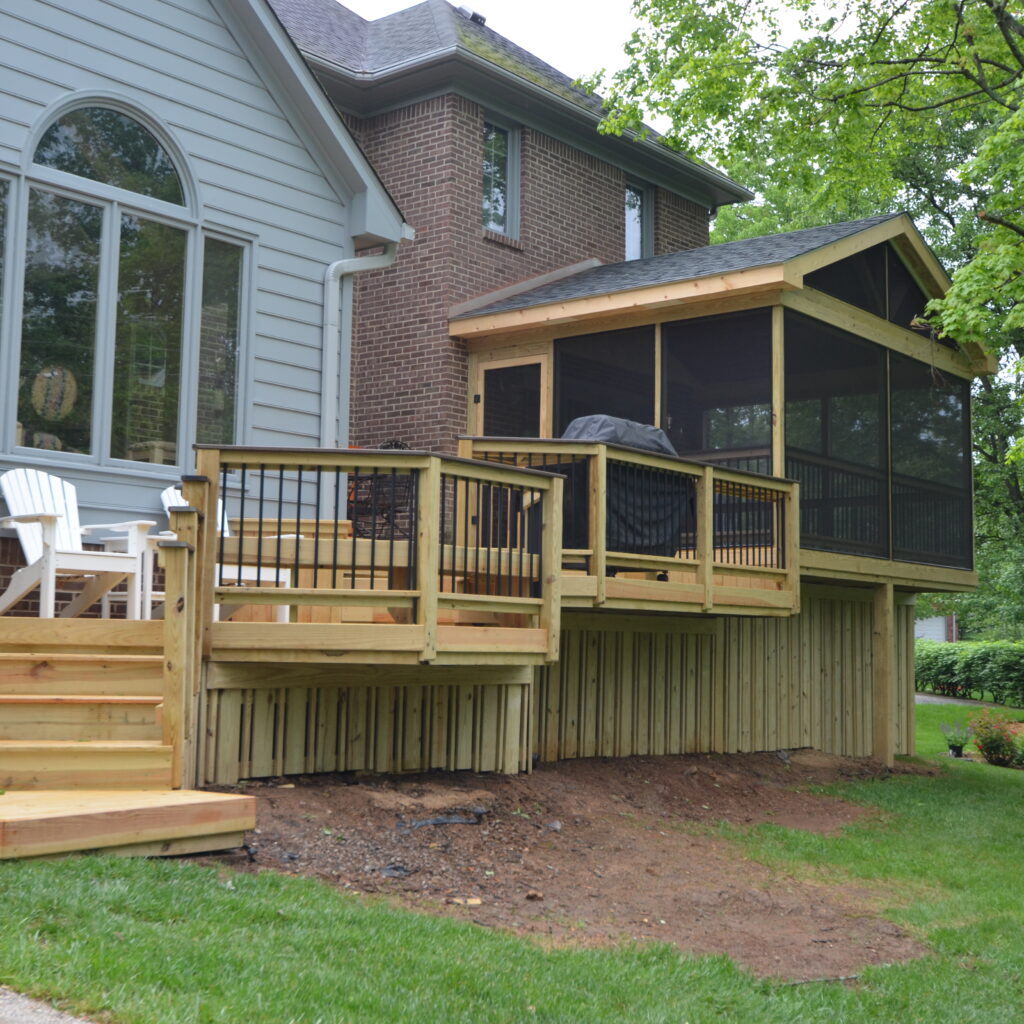 Pros:
Perfect for moderate/warmer climates – With screened rooms, you do not have the ability to control the temperatures, so these custom additions are perfect for warmer and moderate climates.
Outdoor feel – A custom screened room is an extension the outdoors. If you love spending your time outside, then this is the best option for you. You get all the pros that come from nature's outdoors like the feel of a peaceful breeze, without the cons like nagging flies and bugs.
Less Expensive – Screened rooms cost considerably less to build than sunrooms. This is due to the fact that screened rooms require fewer materials and less construction. So, if you want an appealing addition to your home at a affordable price, this option is perfect.
Cons:
Seasonal Limitations – Screened rooms are not able to provide year long use, unless you live in an area where the climate is always moderate. They do not provide comfortable conditions in extremely hot or cold temperatures.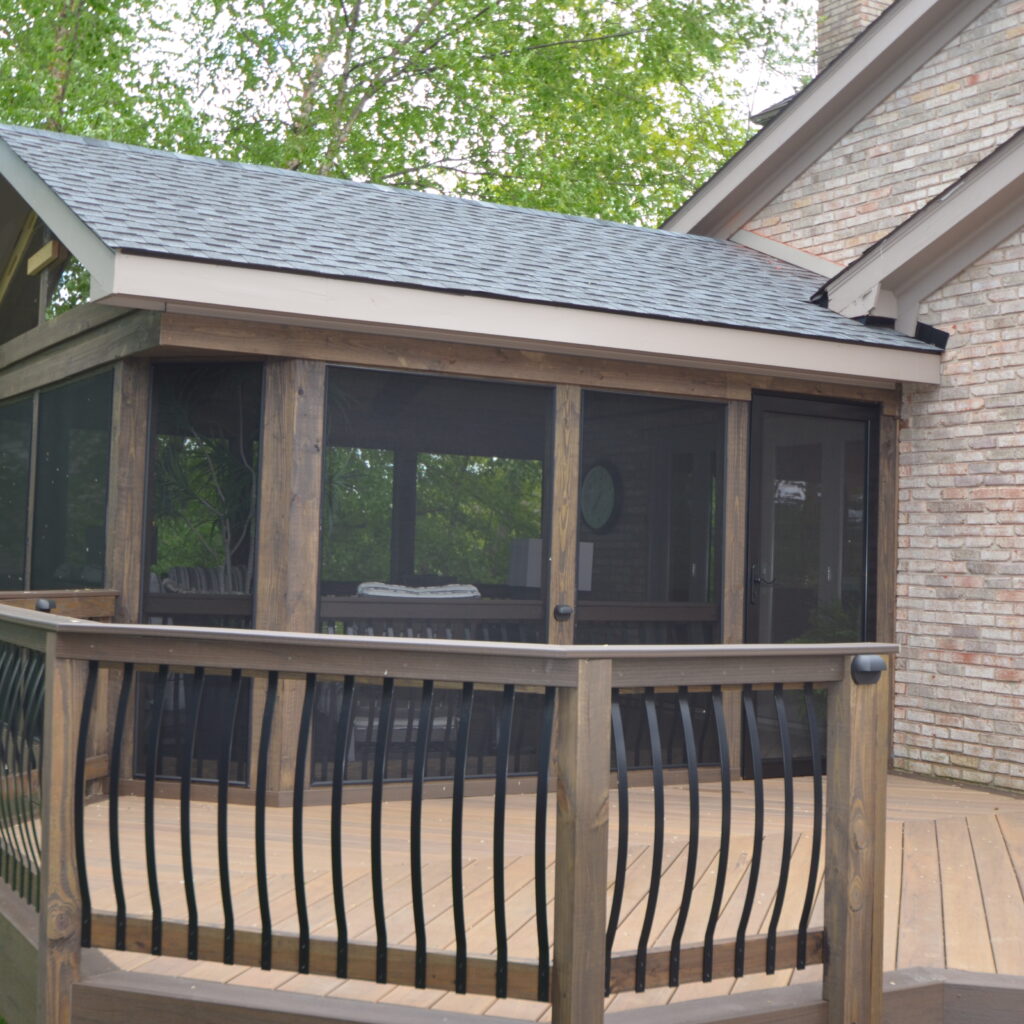 Remember…
No matter your architectural needs, American Deck & Sunroom can provide you with a custom design that will increase the worth of your home, will blend seamlessly with your existing architecture, and will last a lifetime. Many homes benefit from the beauty of both of these custom architectural additions.
At American Deck & Sunroom, we don't build houses. We don't dig pools. We don't just install a custom screened room. What we do is design and build beautiful outdoor spaces… extensions of your home that flow with your existing property and architecture. And because we specialize, we go beyond the, "If you can dream it, we can build it," catchphrase often quoted. After nearly 20 years in business and nearly 13,000 designs and counting, we have the experience to design outdoor spaces you've never even dreamed possible.
Interested in learning more about a custom screened room? Contact us today!