The Deck Below Your Deck
The space under a deck, also known as no man's land. Despite the fact that the area may have just as much space as your deck, the underside of many decks often goes unloved. Of course, some decks are built close to the ground, so there is very little space between the ground and the deck. However, many hillside properties and multilevel decks have plenty of space for a seating area, hot tub, fire pit, outdoor kitchen, snack bars or anything else you can imagine, if only the area under the deck wasn't so moist and gross. If you are tired of wasting outdoor space that you could be using for relaxation or entertaining or want to add a finished look to your deck, custom dryspaces or underdeck systems can take back your underdeck space and allow you to enjoy your landscape in a whole new way.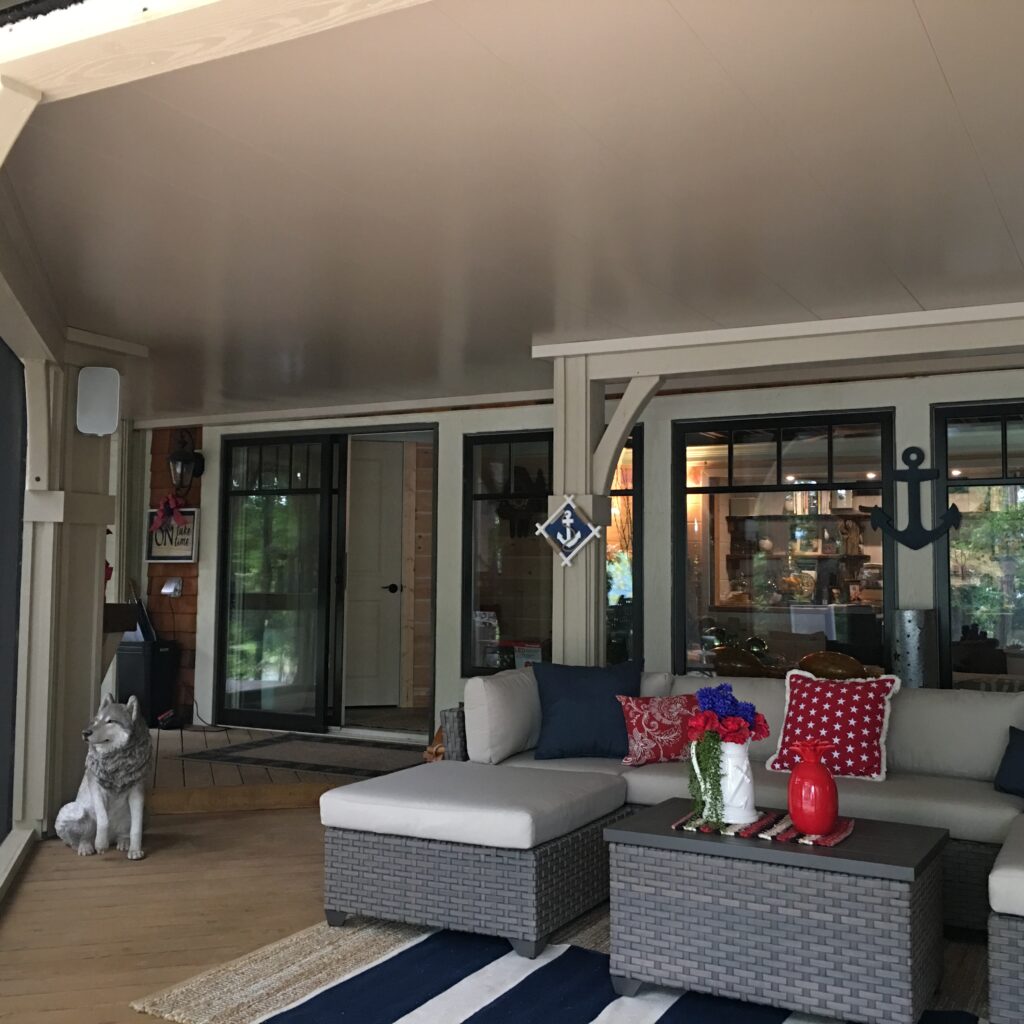 The Advantages of Underdeck Systems
Underdeck systems use your outdoor space much more efficiently than a deck can on its own, as a dry area under your deck literally doubles the usable space of what you already own. Not only does an underdeck system double your space, they also allow you to use your outdoor space at times when your deck may not be so optimal. If the sun is beating down on a summer day or an April shower transitions to a full-on downpour, and you only have a deck, you may be restricted to your indoor living quarters, unable to enjoy the sun or the soothing raindrops as they land, one by one, on your lawn. But an underdeck system can fix this issue, since they offer a shaded, waterproof area to protect you and your belongings from even the harshest of elements. With an underdeck system, never again will roasting marshmallows over your custom fire pit or grilling out for your family be called off because of rain.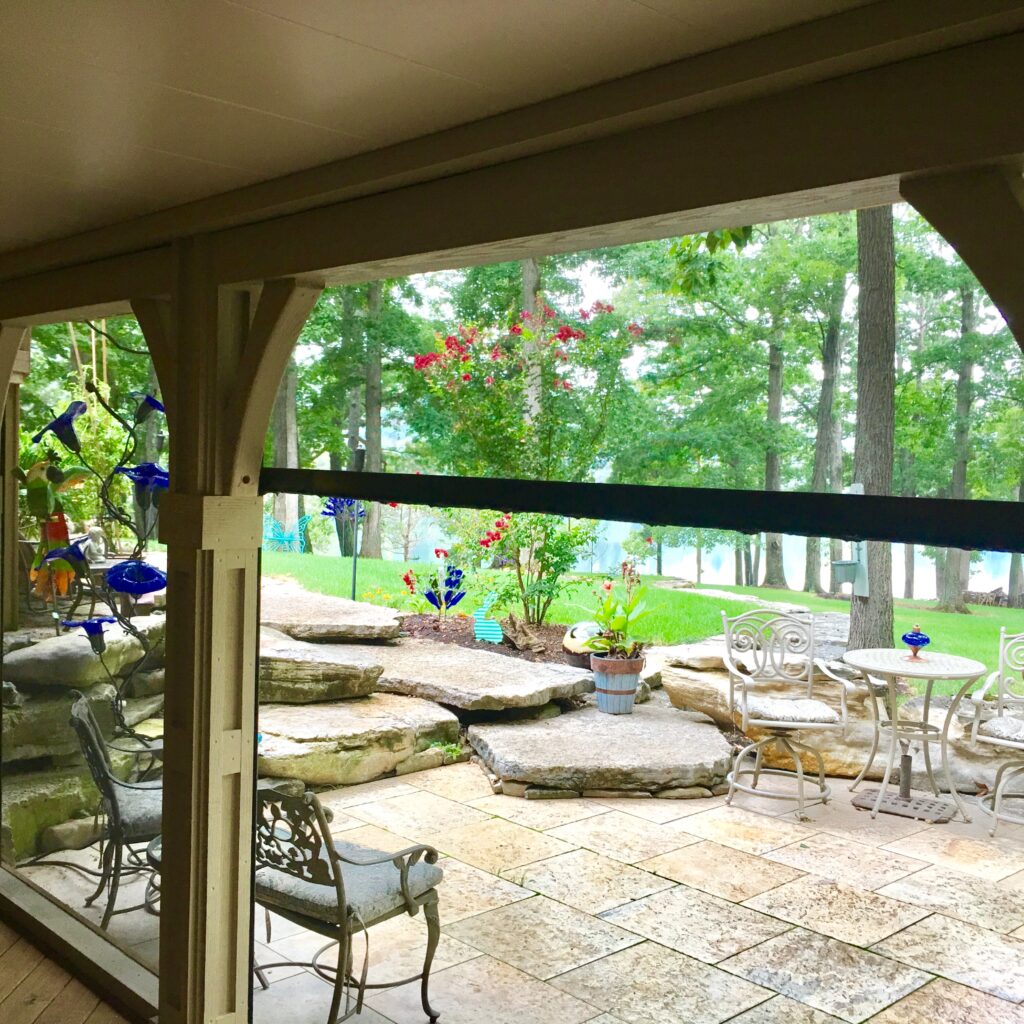 Dryspace & Underdeck Systems
Having a sloped yard can make mowing the lawn more difficult than it should be but it can also be an opportunity to install one of the most efficient deck additions on the market. Adding a dryspace or underdeck system if there is enough open space under your deck virtually double the amount of outdoor paradise that you already own. Aside from sun bathing, these systems offer all of the benefits associated with normal decks plus a degree of weather resistance. No cookout or barbecue needs to be slowed down by a rain delay if the free space under the deck is used to its full potential. Everyone can enjoy the natural beauty of the outdoors and the comfort of civilized utilities in the same area. But wait, there's more!
Whether you already have a deck or you are in the market for a new backyard enhancer, American Deck and Sunroom can provide you with many different additions to this outdoor space to ensure that you have the deck of your dreams. Provide more convenience and promote natural, social interaction with built-in benches and snack bars. Don't cancel the event on account of rain; take the party below-deck with the help of an underdeck system. Bring the get-together to a close by roasting marshmallows with a custom fire pit. There are always more add-ons that we can attach to your deck.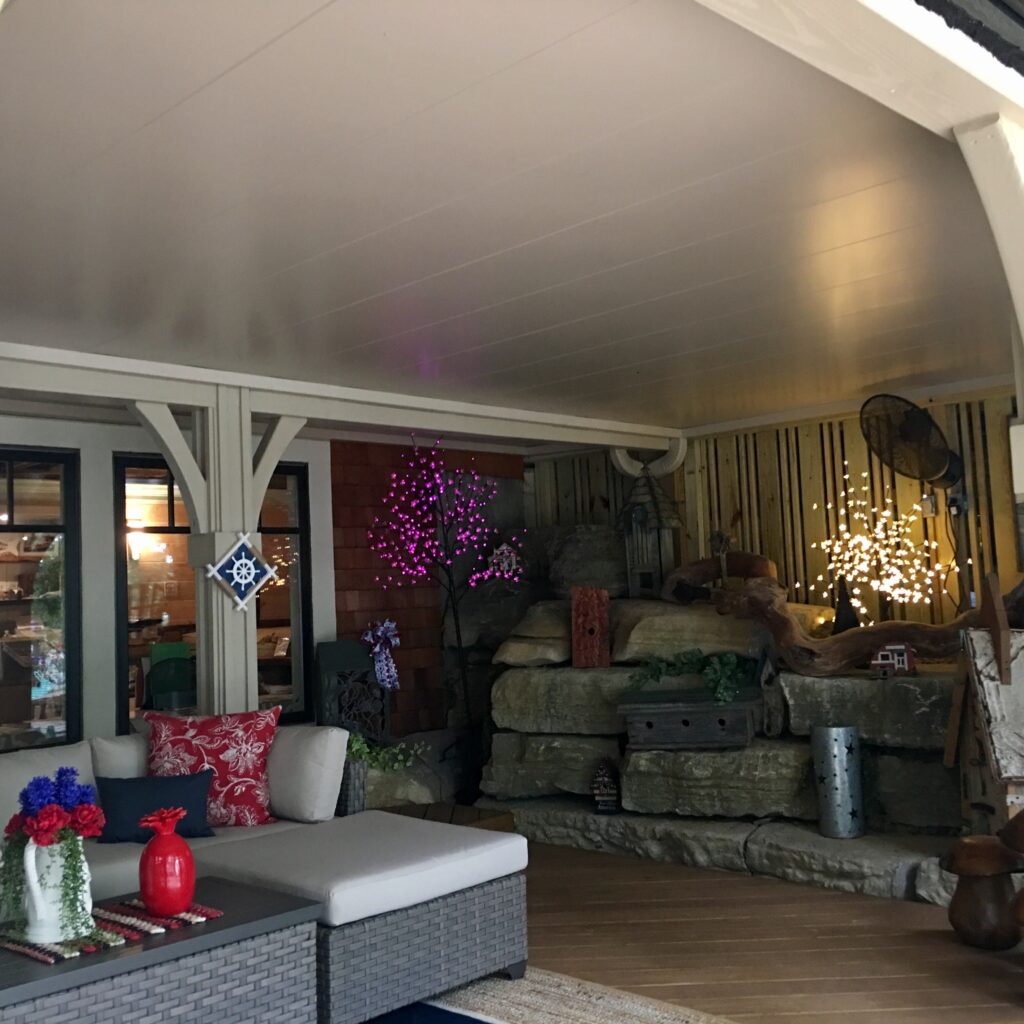 What is Involved in an Underdeck System Remodel?
Whether you have a standalone deck or an additional underdeck system, your deck has to be equipped to deal with drainage. To achieve proper drainage and prevent puddles from forming, which can damage your deck materials, decks have space in between each board. Underdeck systems have ceilings or other barriers that are placed under the deck above them to keep the underdeck space dry. So, where does all that runoff from rain and snow go?
Underdeck systems usually solve the issues of drainage, dryness, and stable construction by using trim, gutters, downspouts, ceiling panels, and support braces to build an area capable of weathering a storm, while also safely housing your family, outdoor furniture, and fixtures. The first step in a professional underdeck remodel is to determine what the proper pitch of your underdeck system should be to ensure water and debris flow away from your deck. Second, wall channels and gutters must be installed at the correct pitch to prevent water from leaking onto your underdeck. Lastly, your ceiling panels will be installed to finish off your underdeck and make it look and feel like a complete outside room.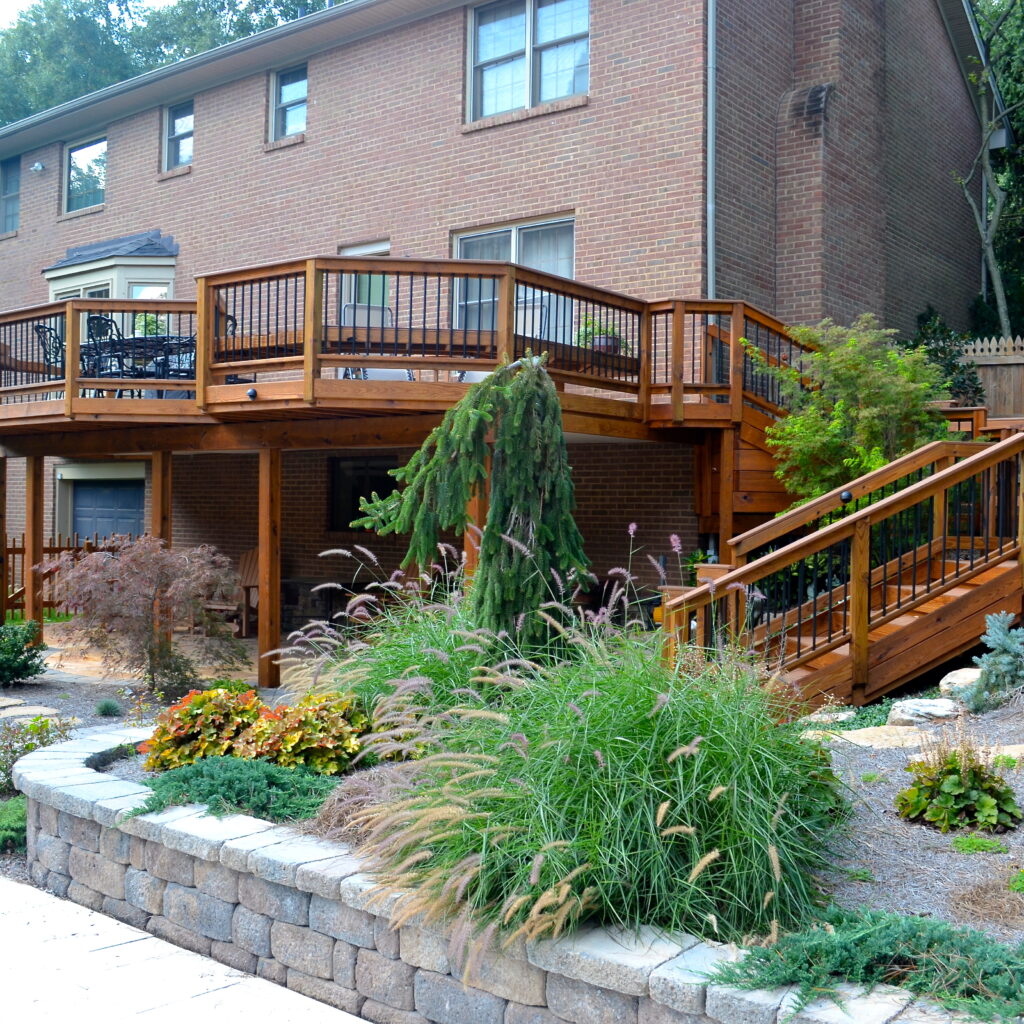 Customizing and Decorating Your Underdeck System
Once your underdeck system is in place, the fun part begins: you get to make it your own. Starting with the ceiling of your underdeck, you have many options to accessorize and illuminate your space, including chandeliers, outdoor ceiling fans, and sound systems. One trick to lighting your underdeck is to use low voltage LED lights, because they emit a warm, yellow light, put off 90 percent less heat, and attract less bugs than other lights. Running along your underdeck ceiling, you can choose between a plethora of moldings, trim, textured materials, and design details, such as woodgrain, beadboard, crown molding, picture rails, arches, and almost anything else you can imagine. Also, furniture, fire pits, outdoor kitchens, grills, hot tubs, and snack bars can be added to your underdeck system to enhance the way you use it and how you can entertain with it.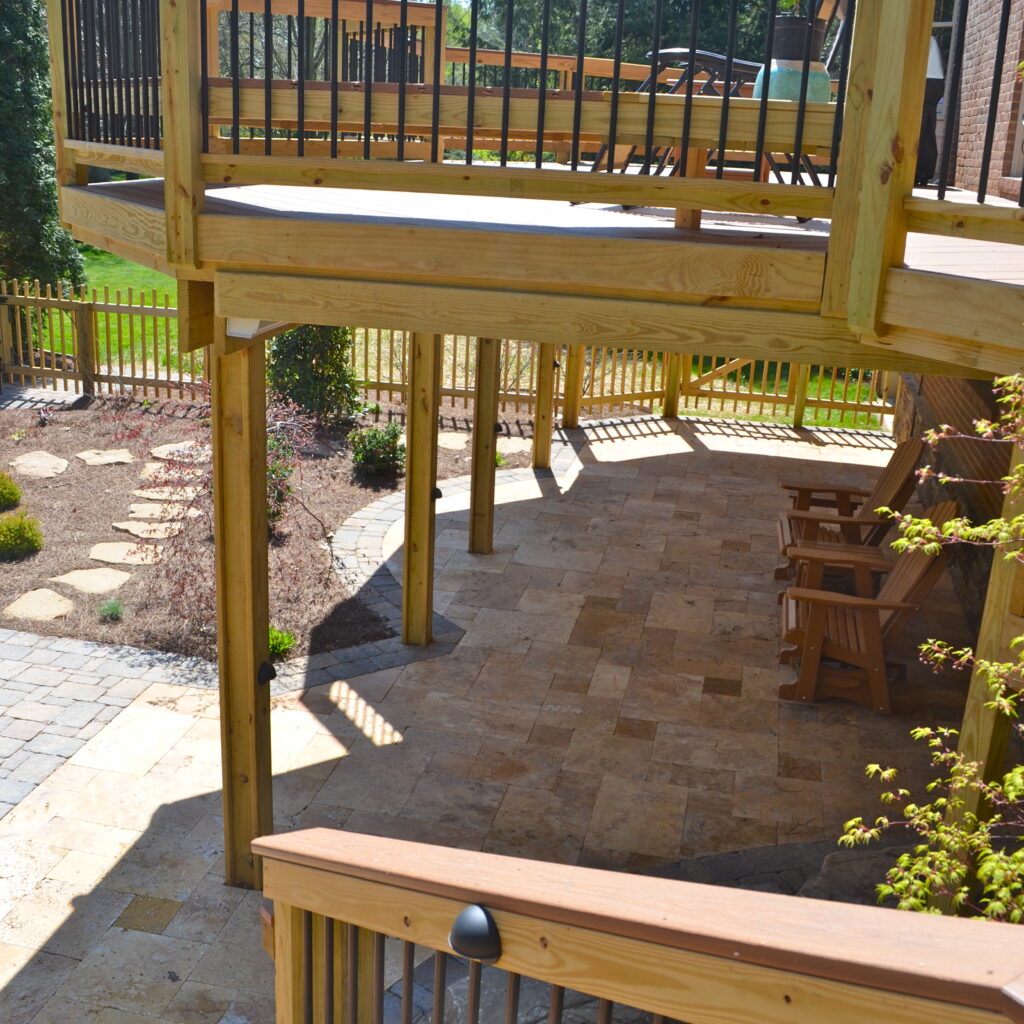 Remember…
No matter your architectural needs, American Deck & Sunroom can provide you with a custom design that will increase the worth of your home, will blend seamlessly with your existing architecture, and will last a lifetime.
When you choose American Deck & Sunroom to create a custom project, you are choosing an experienced contractor for your outdoor living project. The hallmarks of our service include professional crafting, guaranteed cost quotes, first rate building materials, and a rarity among construction projects: the crew that begins erecting one of our projects stays with it to the end. This is a measure of quality control that is a determining factor in our delivery of superior workmanship.
At American Deck & Sunroom, we don't build houses. We don't just build underdeck systems. What we do is design and build beautiful outdoor spaces…extensions of your home that flow with your existing property and architecture. And because we specialize, we go beyond the, "If you can dream it, we can build it," catchphrase often quoted. After nearly 20 years in business and nearly 13,000 designs and counting, we have the experience to design outdoor spaces you've never even dreamed possible.