What is a Pergola?
Each customized pergola can be designed to match your home or to accent it. The shade offered by pergolas can come from the beams themselves, draped fabric, or by flowers, climbing plants, and vines that are laid atop the beam. Unlike size and scale, style has more leeway. For instance, traditional designs go well with gardens of period homes, like Victorian or Colonial style homes, but that doesn't mean a more modern, sculptural piece wouldn't look great juxtaposed with the historic design aesthetic of your home.
Pergolas are fantastic covers to any patio or porch that provide all the shade you want, at a more affordable price than an alternative roof cover. A pergola is a great addition to any porch to provide shade over your table, lounge area, fire pit, etc. and provide a unique look to your house. Decorate a pergola with vines, fabrics, lights, or hanging plants. American Deck and Sunroom will work with you to build a pergola that fits any versatile needs you may have, and compliment the aesthetic of your house.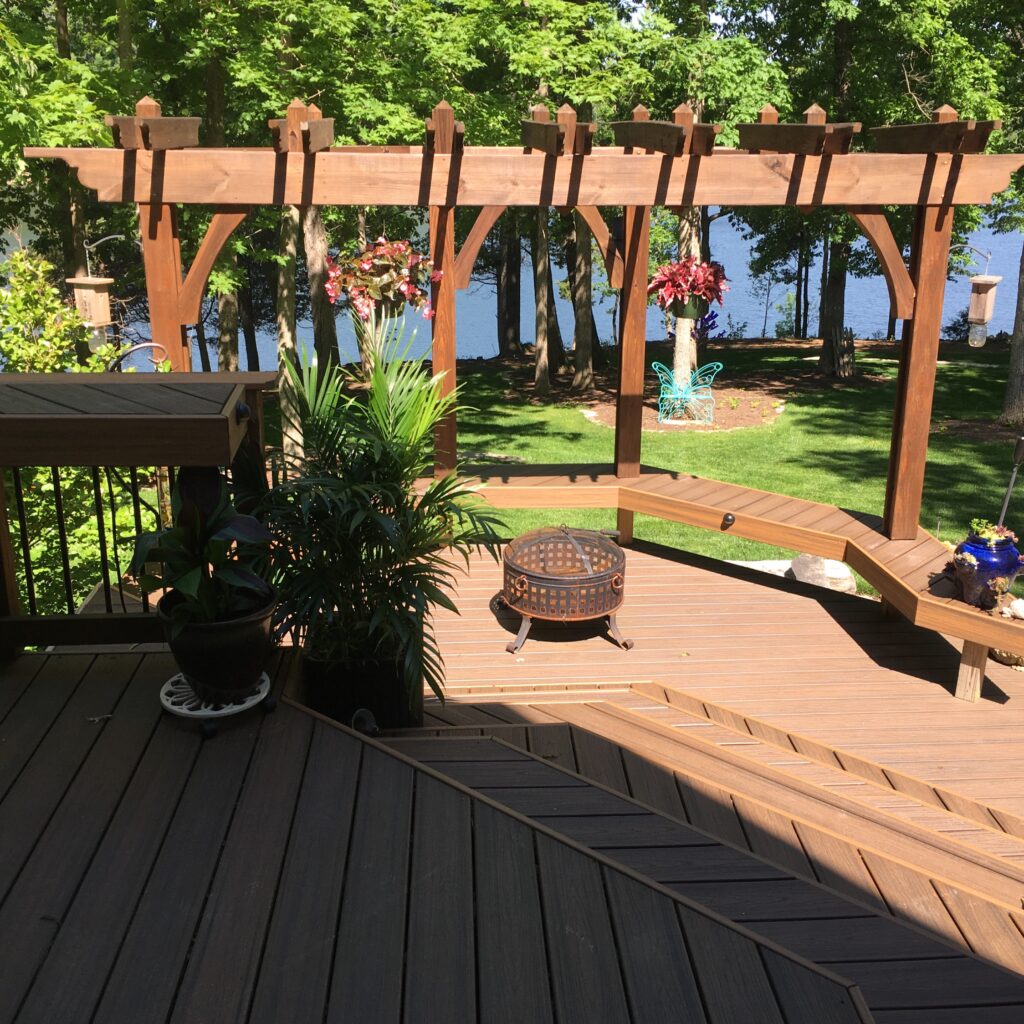 Pergolas in Kentucky
There are many types of patio coverings available to the modern consumer wishing to add a little bit of variety to their outdoor architecture. One of the many types of coverings that American Deck & Sunroom offers is a variety of custom pergolas. Pergolas will make your open air life complete. Also known as shaded arbors, pergolas add shade and protection to a patio or deck. Pergolas are less expensive than a full roof cover, but they can still be customized to match your home's design and color scheme.
Pergolas can be separated from the house, and used as a beautiful addition to your yard. Put it over a fireplace in your yard and enjoy an evening with your friends and family in the shade. Plant some flowers and bushes around the sides of the pergola and have a relaxing, outdoor lounging area for you to escape to when you need to relax. Get a pergola in your garden area to create a tranquil spot to sit and admire your garden. Your pergola can be made of many materials to suit your needs, including: stone pillars and beams, metal, brick, glass, iron, or even driftwood.

Remember…
No matter your architectural needs, American Deck & Sunroom can provide you with a custom design that will increase the worth of your home, will blend seamlessly with your existing architecture, and will last a lifetime. Many homes benefit from the beauty of both of these custom architectural additions.
At American Deck & Sunroom, we don't build houses. We don't dig pools. Just don't just install your custom pergolas. What we do is design and build beautiful outdoor spaces… extensions of your home that flow with your existing property and architecture. And because we specialize, we go beyond the, "If you can dream it, we can build it," catchphrase often quoted. After nearly 20 years in business and nearly 13,000 designs and counting, we have the experience to design outdoor spaces you've never even dreamed possible.
Interested in learning more about custom pergolas? Contact us today!