I'm Dreaming of… Warmer Weather
With winter rapidly approaching, now may be the time to plan out next summer's outdoor possibilities with American Deck & Sunroom's pool decks! Whether you're looking to complete your above-ground pool or take your in-ground pool to the next level, we have you covered with custom pool decks of your dreams.
Have an in-ground pool? In-ground pools offer homeowners a plethora of options for not only decks, but also for patios and surrounding areas. Along with the aforementioned wood, composite lumber, and plastic decking, in-ground pool owners can take advantage of the low-profile of their pools and opt for natural stone, poured concrete, or pavers. The right material is different for every homeowner, but usually the material around the pool matches the other hardscape materials found around your home, such as your sidewalk or porch.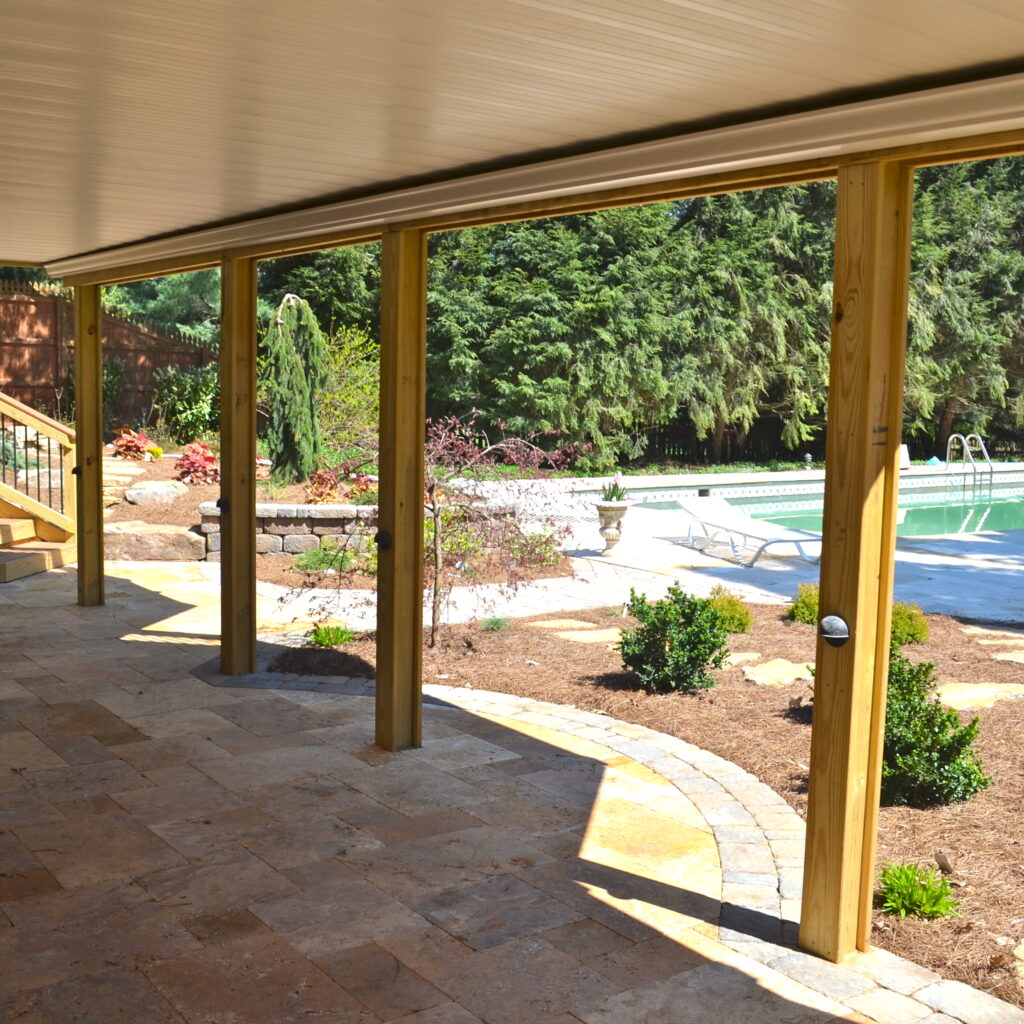 The Underdeck Advantage
Despite the fact that the area may have just as much space as your deck, the underside of many decks often goes unloved. Of course, some decks are built close to the ground, so there is very little space between the ground and the deck. However, many hillside properties and multilevel decks have plenty of space for a seating area, hot tub, fire pit, outdoor kitchen, snack bars or anything else you can imagine. If you are tired of wasting outdoor space that you could be using for relaxation or entertaining or want to add a finished look to your deck, custom dryspaces or underdeck systems can take back your underdeck space and allow you to enjoy your landscape in a whole new way.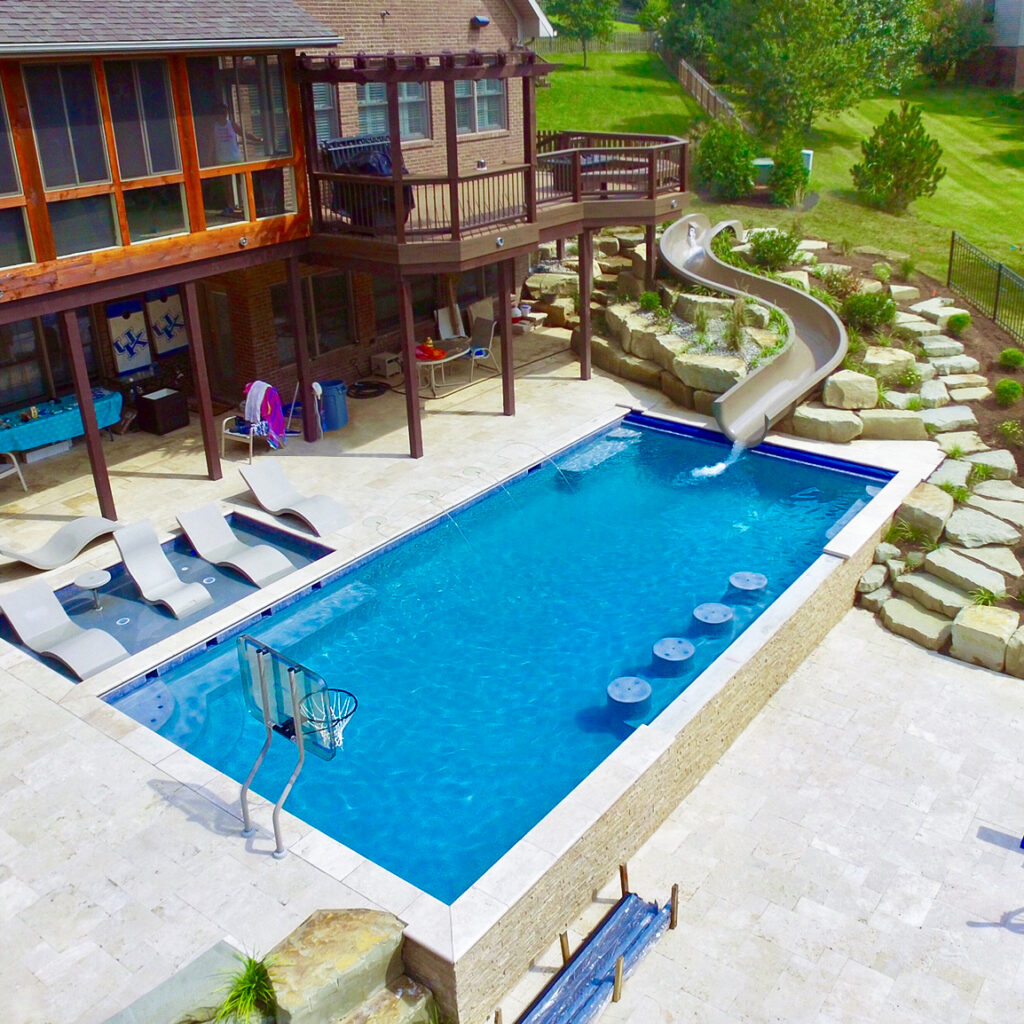 Custom Pool Decks: Materials
Choosing a decking material for a custom pool deck usually comes down to three concerns: look, maintenance, and cost. No matter which of the three concerns is your determining factor, no one can decide what material is right for you. However, you can be more informed when the time comes
Whether you're looking to complete your above-ground pool or take your in-ground pool to the next level, we have you covered with the custom pool deck of your dreams.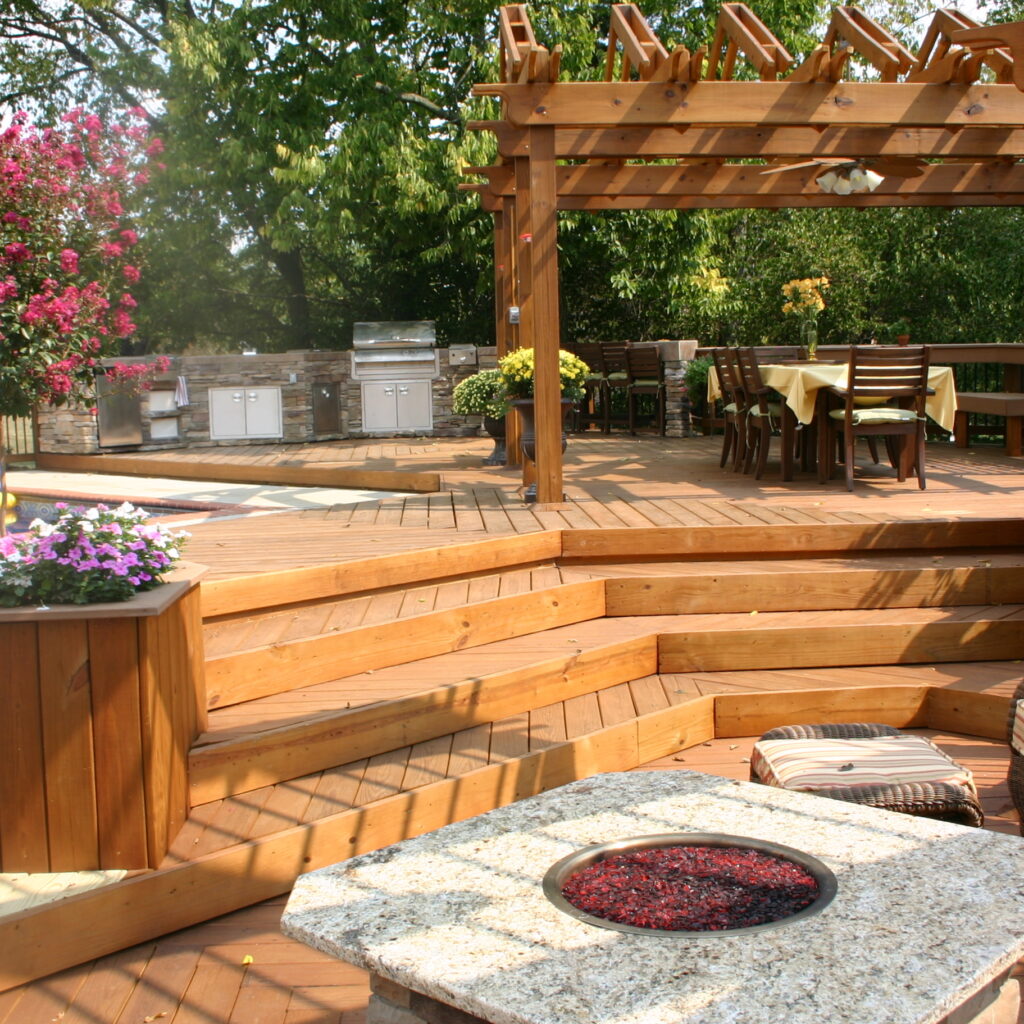 Why Stop at Custom Pool Decks or Patios?
While many pool owners are more than satisfied with a pool deck or patio, others like to expand their aquatic entertainment area even further. One way to upgrade your newly remodeled pool deck or patio is to add on an outdoor kitchen. Grills, refrigerators, sinks, wine chillers, dishwashers, and even wood pizza ovens are at your disposal. What better way to host a pool party than to make it a dinner party?
In addition to outdoor kitchens, fire pits and fire places are a great way to warm up after taking a dip on a cool summer night or to roast marshmallows with your family and friends, in the comfort of your own backyard. And if fire isn't hot enough for you, you could always have a hot tub installed. No matter what you want out of your pool area or what repairs you need for an already existing pool deck or patio, American Deck & Sunroom can help.
Remember…
No matter your architectural needs, American Deck & Sunroom can provide you with a custom design that will increase the worth of your home, will blend seamlessly with your existing architecture, and will last a lifetime. Many homes benefit from the beauty of both of these custom architectural additions.
At American Deck & Sunroom, we don't build houses. What we do is design and build beautiful outdoor spaces…extensions of your home that flow with your existing property and architecture. And because we specialize, we go beyond the, "If you can dream it, we can build it," catchphrase often quoted. After nearly 20 years in business and nearly 13,000 designs and counting, we have the experience to design outdoor spaces you've never even dreamed possible.