Try A Lanai
If you're not sure if you want a screened room, try on the lanai first and see how it fits. You may find lanais are everything you needed for your new room!
Imagine enjoying the sights, sounds, and smells of a rainy day without getting wet, or not having to worry about pulling the cushions inside before a storm. You'll never have to squeeze the whole gang inside when it rains, apologize for wet cushions, or cancel a family gathering because of bad weather. Imagine seeing a cardinal tucked away in an evergreen surrounded by softly falling snow, while you remain warm and cozy in your new sun room. You're never really sure if you are actually inside or out. Bringing the outdoors inside in every season is what we do.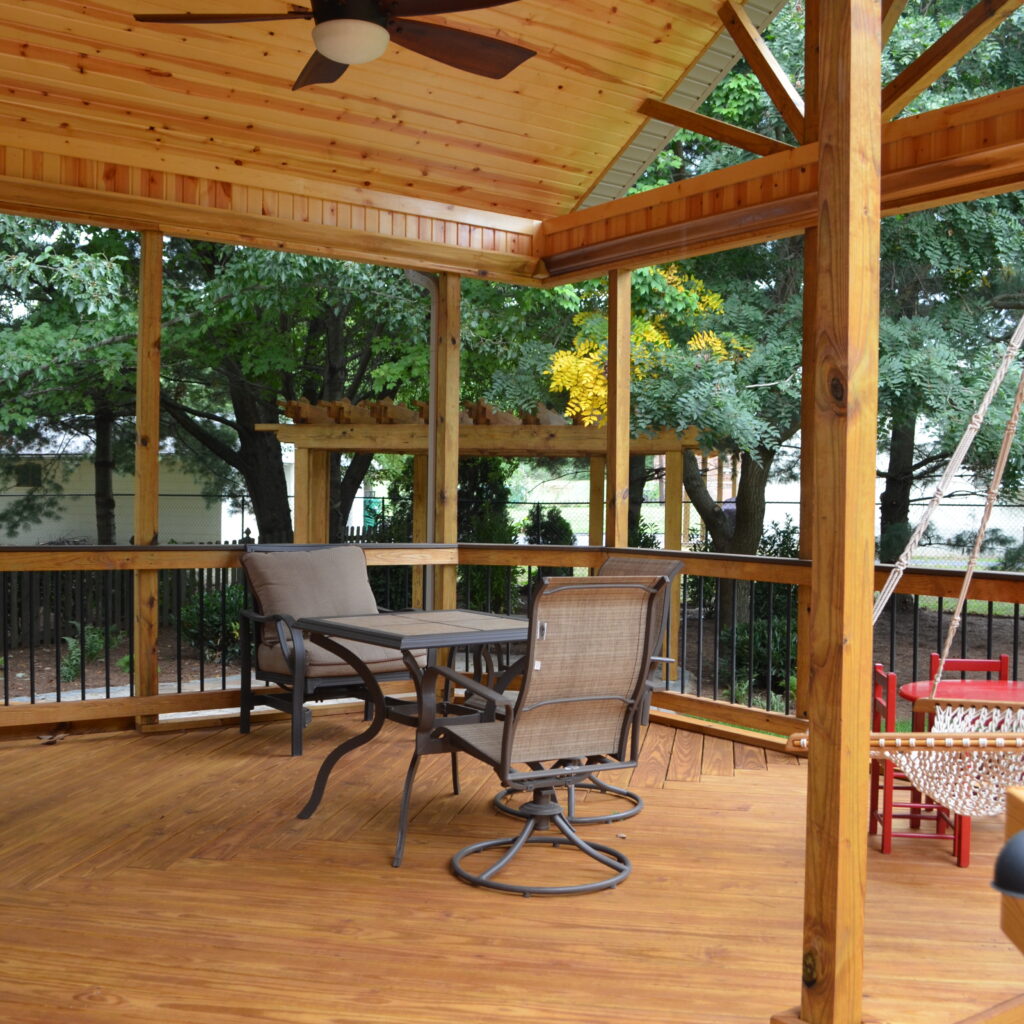 A custom lanai provided by American Deck and Sunroom is a flexible part of your outdoor architecture. For instance, at first you may want to fully experience the outdoors with absolutely no barrier between you and mother nature. Then, perhaps you decide it's best to add some protection against the elements and those pesky insects. Good news: American Deck and Sunroom lanais are pre-designed to later add screens, making a protective addition extremely easy and relatively inexpensive in the future. If you choose a screened room and decide later that a sunroom would be a better fit, your screened room is pre-designed to accept 3- or 4-season glass as a future stage with no penalty costs for redesign.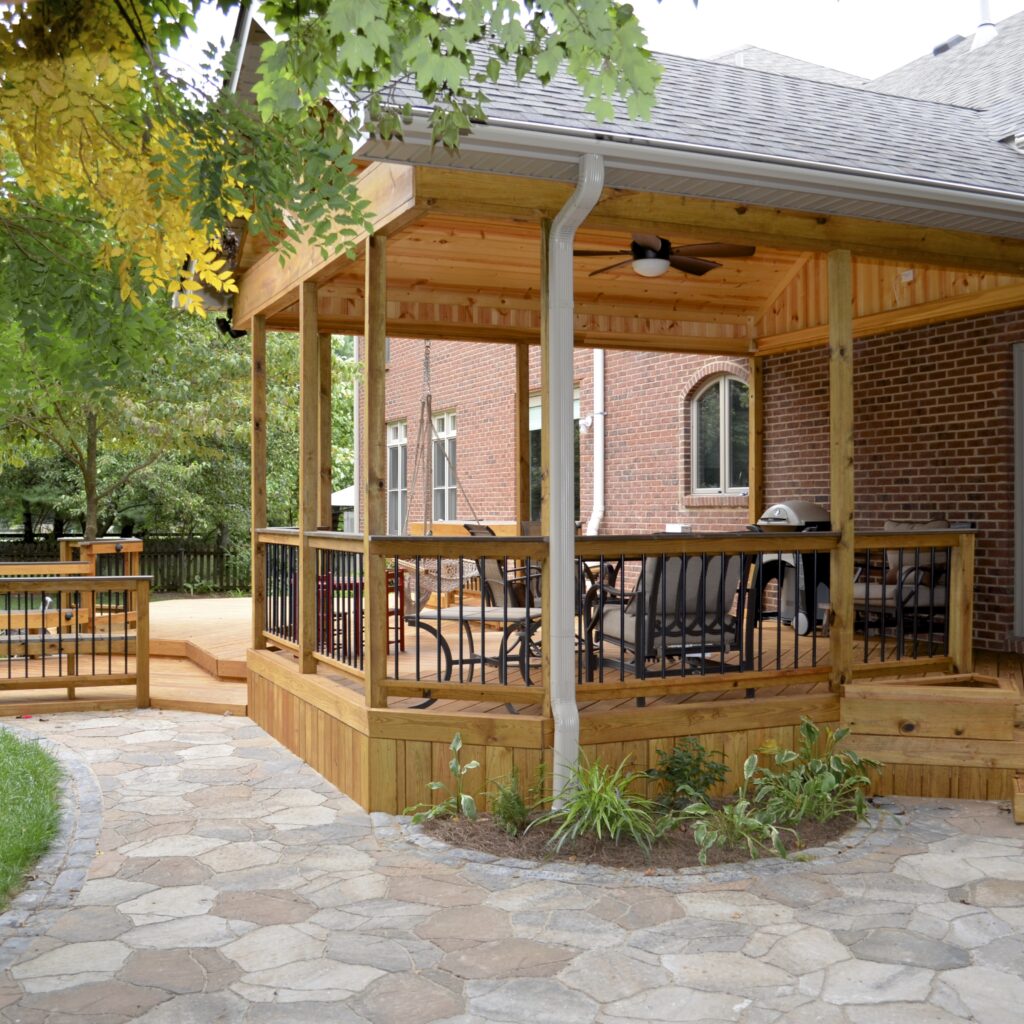 What is a Lanai?
The term lanai originated in Hawaii in the late 1800's, and it is used to describe a balcony, veranda, or porch.
These beautiful additions to your home are often described as being a roofed, open-sided, fully furnished veranda that are frequently observed in tropical climates. Typically, a lanai is furnished with spas, swimming pools, casual tables, chairs and chaise lounges.
Lanais (or porches) are characterized by a covered roof with open walls. Not only will a lanai protect you from the elements, it will also shelter your furniture from rain and protect your deck from the aging effects of direct sunlight. Even though walls with no screens or glass may not yield protection from flying insects, a ceiling fan or two is often enough to keep the little intruders way. Lanai-covered porches create extra rooms outdoors that are both functional and convenient. You can enjoy the view and the breeze while you are protected from the sun and rain. Whether you choose a lanai or a veranda that sweeps across the front of your house, we are the designers and builders that Kentucky, Illinois, Ohio and Tennessee have depended on for over 20 years.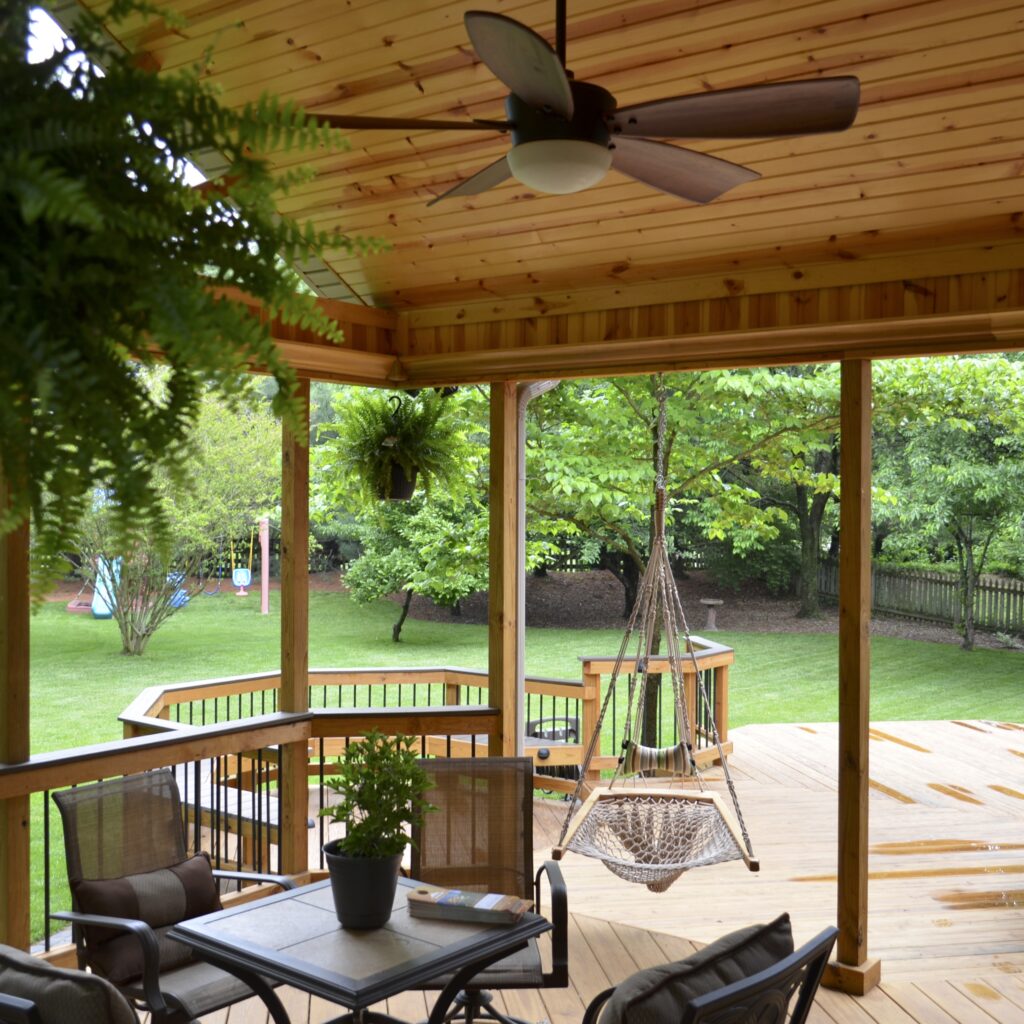 Remember…
No matter your architectural needs, American Deck & Sunroom can provide you with a custom design that will increase the worth of your home, will blend seamlessly with your existing architecture, and will last a lifetime. Many homes benefit from the beauty of both of these custom architectural additions.
At American Deck & Sunroom, we don't build houses. What we do is design and build beautiful outdoor spaces…extensions of your home that flow with your existing property and architecture. And because we specialize, we go beyond the, "If you can dream it, we can build it," catchphrase often quoted. After nearly 20 years in business and nearly 13,000 designs and counting, we have the experience to design outdoor spaces you've never even dreamed possible.