American Deck & Sunroom Knows: A Kentucky Custom Deck isn't Typical
Looking for a Kentucky custom deck? American Deck & Sunroom strives to give each of our customers a sense of place that is simply theirs. That feeling of home is more than a structure, more than a building, and definitely more than just wood, cement, and bricks. We know that feeling, and we know that our customers aren't just buying top quality wood — they are buying a place for their children to enjoy and grow, a sense of belonging, or a place to start anew. They may pay for a builder's expertise, but they have in mind good friends sharing a bottle of wine and a quiet evening under the stars around a slowly burning fire. We work tirelessly to bring custom decks and other custom architectural additions to the heart of beautiful Lexington, Kentucky decks.
The beautiful city of Lexington, Kentucky is nestled comfortably in the heart of the Bluegrass. Whether we are accentuating gently rolling hills with custom decks in Lexington, or building sunrooms where you can gather to watch the UK game in style, American Deck & Sunroom is delighted to call the beautiful city one of the many we offer our custom deck services in. For a Kentucky custom deck, look no further than American Deck & Sunroom.
We're happy to be able to offer a variety of custom deck and architectural solutions. Our most often sought-after constructions are custom decks, screened rooms, lanais, and sunrooms, though the most popular request is a custom deck that is perfectly designed to complement the structure and design of an existing home. We understand: you demand quality workmanship. Our crew delivers.

Materials for a Kentucky Custom Deck
Choosing a decking material usually comes down to three concerns: look, maintenance, and cost. No matter which of the three concerns is your determining factor, no one can decide what material is right for you. However, you can be more informed when the time comes to make your decision.
Materials alone do not make a deck; the shape, size, curves, and levels of a deck are just as an integral to a design. Traditionally, a deck was supposed to be no larger than 20% of your home's square footage. However, separating your Kentucky custom deck into predefined spaces, or rooms without walls, can allow you to have more deck space without dwarfing your home. The same effect can also be achieved by adding multiple stories or levels to your deck. While stories can offer you a deck along with a covered underdeck system, levels can define your space without adding several flights of stairs.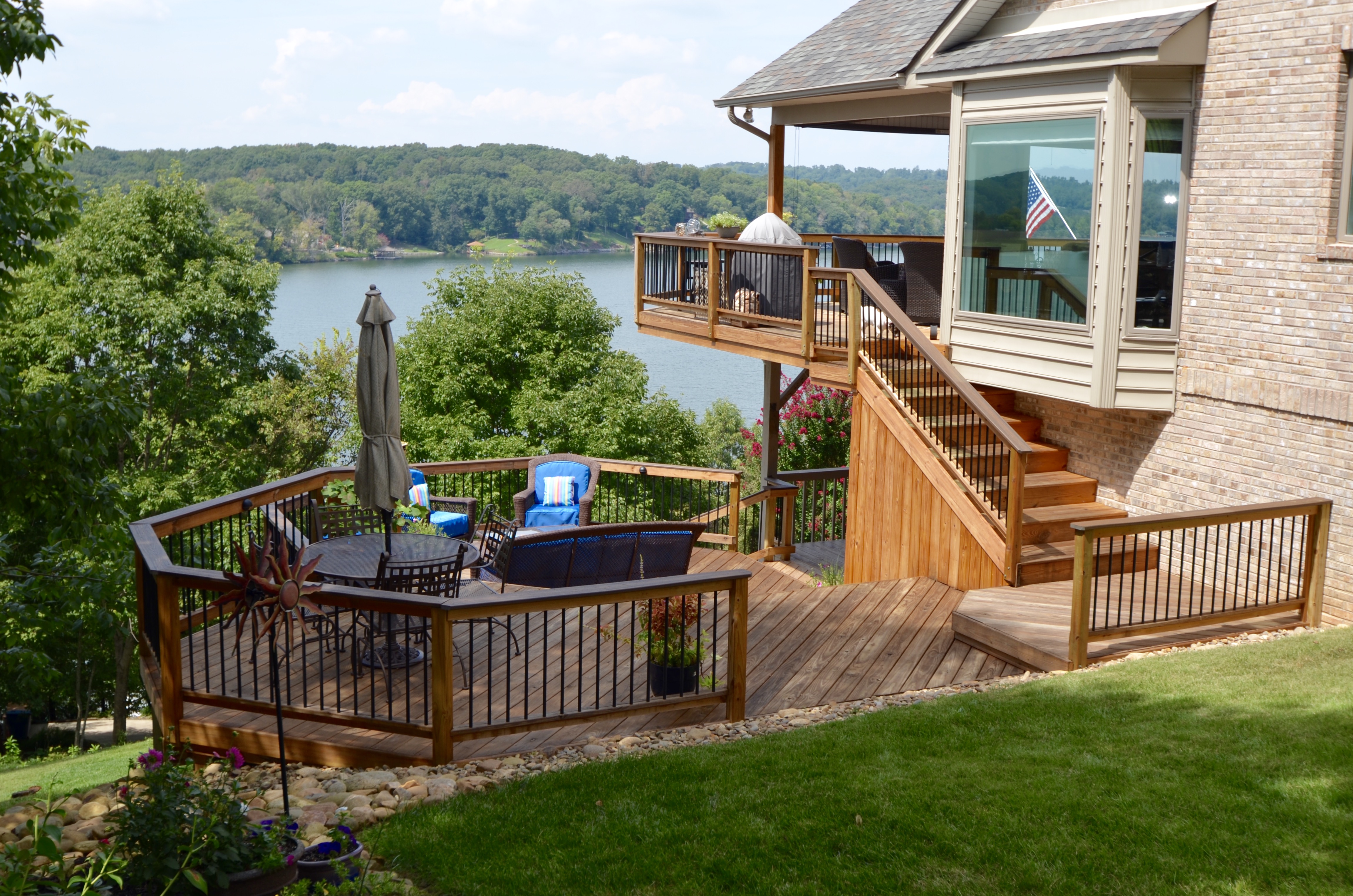 Kentucky Custom Deck Add-ons
At American Deck and Sunroom, we don't stop at custom decks. We provide a number of additional niches and perks that can further enhance the look and the use of your deck. By adding built-in benches around the edge of your custom deck, your guests will tend to linger on this outdoor extension of your home longer and will provide natural comfort for a large number of people. With the addition of a built-in snack bar, guests will have the opportunity to sit their plate down while not missing out on any of the social action. These add-ons to your Kentucky custom deck will set up every cookout to have a natural social and dining atmosphere.

When designing your dream custom deck, why stop at a deck, stairs, and railings? Many homeowners combine their deck with a custom-designed pergola, lanais, or underdeck system, like those offered by American Deck & Sunroom in Kentucky. These additions offer you and your guests shade, as well as a covered outdoor space to house other features, such as fire pits, hot tubs, benches, outdoor kitchens, and snack bars. To flesh out these spaces, you can create a full-featured outdoor space by attaching speakers, lights, fans, and planters.
We also provide custom extensions of your home that will appear to a part of the original construction. So, if a lone fire pit does not seem like enough to stand up to chilling temperatures by itself, why not add a roof?  American Deck and Sunroom has many beautiful options that will give you this extra protection from the elements. Let us give you a pergola or the lanai that will be specifically tailored to your every request and that allow you to spend each day amongst the elegance of nature. Further, the lanai can be adapted into a screened room with ease. So, knowing that this option is always available should be enough to allow you to take the chance on this gorgeous, open, outdoor extension of your home.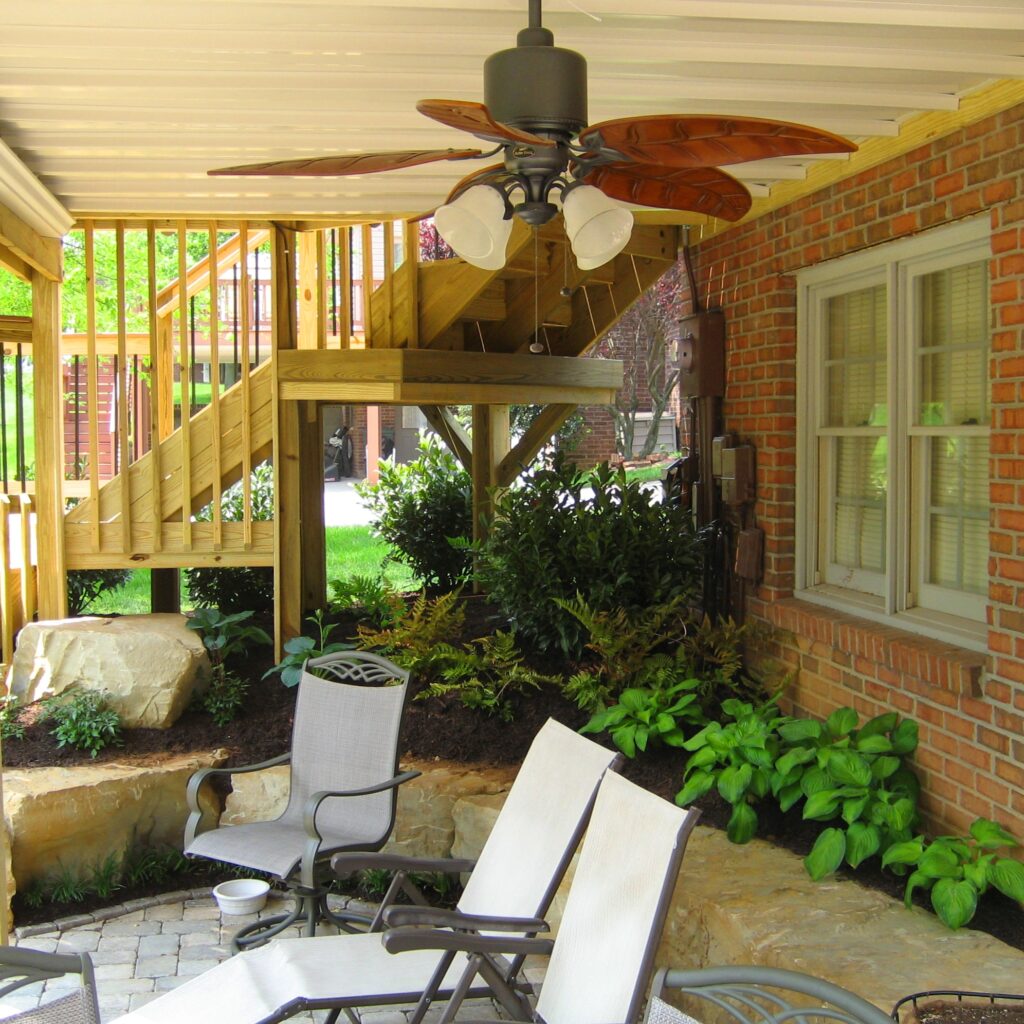 Remember…
No matter your architectural needs, American Deck & Sunroom can provide you with a custom design that will increase the worth of your home, will blend seamlessly with your existing architecture, and will last a lifetime.
When you choose American Deck & Sunroom to create a custom project, you are choosing an experienced contractor for your outdoor living project. The hallmarks of our service include detailed engineering, guaranteed cost quotes, first rate building materials, warranties, and a rarity among construction projects: the crew that begins erecting one of our projects stays with it to the end. This is a measure of quality control that is a determining factor in our delivery of superior workmanship.