Outdoor Fireplaces
Adding outdoor fireplaces or a custom fire pit offers a new attraction that can be enjoyed at any time of the year. American Deck & Sunroom creates designs based on your existing architecture, pulling from your unique style to create something that will blend seamlessly, adding another piece to the final puzzle. We provide innovative, unique, and long-lasting fire pits and fire places for our customers to enjoy year round, but if you want those s'mores tasting great year after year, some maintenance is required. Luckily, maintaining a beautiful fire pit or fireplace is an easy task.
According to the American Society of Landscape Architects outdoor fireplaces are one of the number one requested design features today. Why not? They add ambiance to a cool evening, and it's nice to just sit and stare at a burning fire. Plus, you can have one for a lot less than you might think!

Outdoor Fireplace Basics
Too often people are confined to the indoors on summer and autumn evenings, not having a reason to go outside. An outdoor fireplace or fire pit is the perfect means to escape the house and relax outside. The ambiance and appearance of a house is a reflection of the owner; this stays true for the patio area and backyard. American Deck and Sunroom knows the importance of having an outdoor fireplace that works well while seamlessly blending and adding to the beauty of your house. Outdoor fireplaces add practicality and beauty to your home that extends beyond the living room.
An outdoor fireplace is more private than a fire pit, and can burn wood, propane, or gas. They also block the wind, which could cause embers to scatter about in a fire pit. They do, however, require code regulations and permits because they have a chimney. Gas fireplaces don't require a chimney, but do require a gas line. Fireplaces are typically more expensive, because they require more materials and labor. Built-in fireplaces definitely offer an extra boost of aesthetic appeal that a free-standing fire pit won't.

Always remember: Practice fire safety!
A fire of any kind demands serious attention. In addition to knowing how to properly care for your custom fire pit and fireplace, keep these tips in mind:
Check wind direction before you light a fire.
Don't use flammable fluids (gasoline, lighter fluid, etc) to light or relight fires.
Don't wear flammable clothing (like nylon) or any loose-fit clothing.
Avoid using soft woods like pine or cedar, because they can "pop" and throw sparks.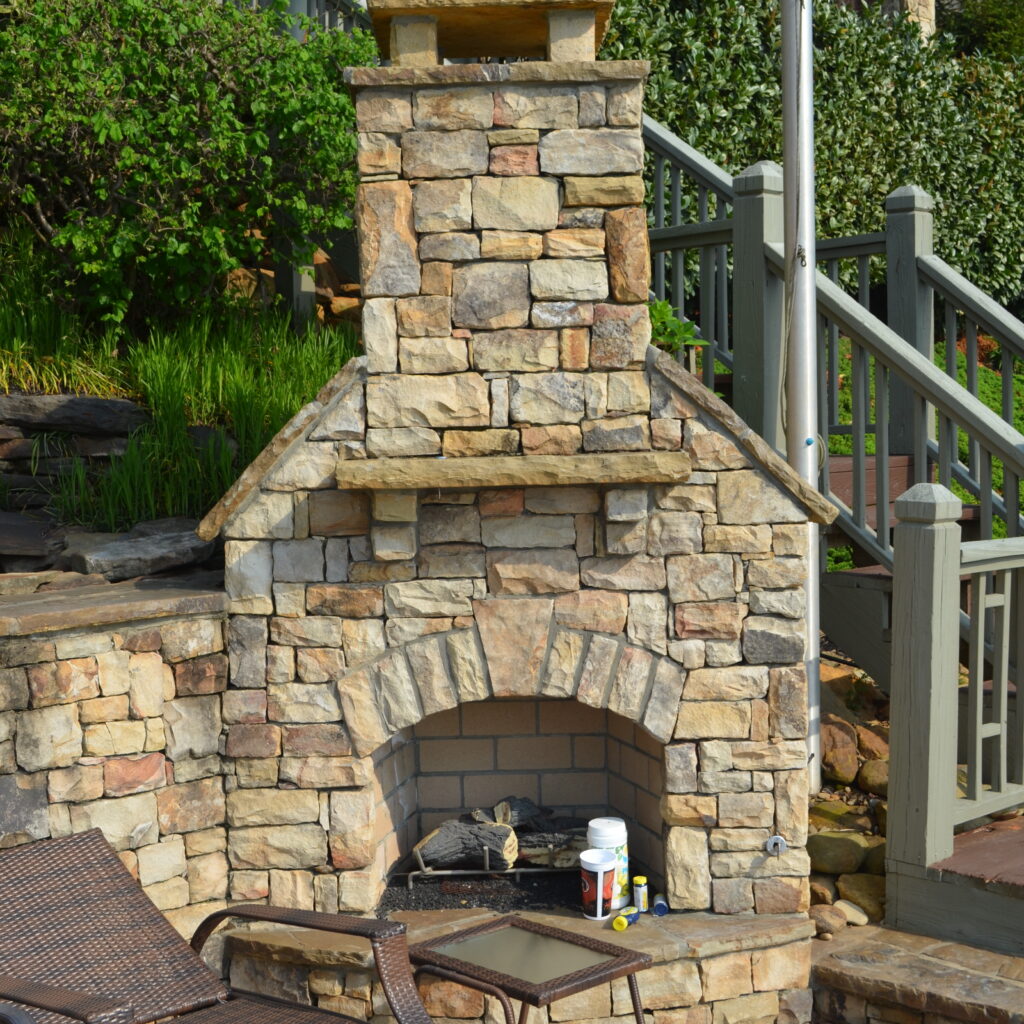 Maintenance for Outdoor Fireplaces
Whenever there is an open fire involved with any activity, there is always a chance for mishaps. So make sure that there are working smoke and Carbon Monoxide alarms installed in the house so that any accidents can be quickly recognized and corrected. The ash should also be removed from the fireplace whenever it reaches the grate so that vertical airflow is not hindered. Frequent testing of the fireplace with small amounts of seasoned wood should also be completed to verify that smoke is not entering the room, there are no unwanted objects (like bird nests or damp wood), and there is minimal soot build-up. Even when all of these precautions are taken, you should still have your fireplace and chimney inspected by a professional at least once per year.

Remember…
No matter your architectural needs, American Deck & Sunroom can provide you with a custom design that will increase the worth of your home, will blend seamlessly with your existing architecture, and will last a lifetime. Many homes benefit from the beauty of both of these custom architectural additions.
At American Deck & Sunroom, we don't build houses. We don't dig pools. We don't just build outdoor fireplaces. What we do is design and build beautiful outdoor spaces… extensions of your home that flow with your existing property and architecture. And because we specialize, we go beyond the, "If you can dream it, we can build it," catchphrase often quoted. After nearly 20 years in business and nearly 13,000 designs and counting, we have the experience to design outdoor spaces you've never even dreamed possible.